SO HERE WE ARE - 2019 GIGS LOOMING
The guys are back off their holidays, so no doubt Steve and Terry will be sporting their tans on stage this Friday at the Annual Annette Fox Leukemia Ball.
We also hear that Mick has no broken bones, from his antics on a ski-trip to France!
IRELAND
Tickets are selling fast for ALL the Irish shows, so don't be disappointed, make sure you get in quickly!
SWEDEN
Dates for the Swedish Tour are also selling quickly and we are expecting to announce some sell out's in the coming days!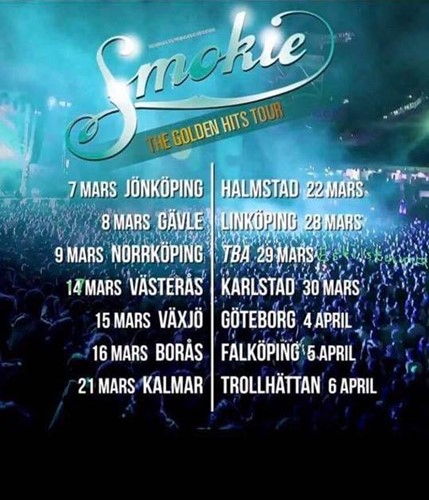 The Tour Dates on the website will also be updated shortly, we are just waiting for some tickets links which will be a great benefit to fans wishing to book tickets.
AUSTRALIA
The Australian Tour is almost complete. Again; just a few more details needed, before we make our full presentation of dates. We can also confirm that Smokie will play a major festival in Queensland, as part of our tour of Oz.
Things are going to get hectic around the Smokie camp in the coming weeks, so keep checking back here for updates on everything that is important!
Keep up to date about where Smokie are playing.
You don't want to miss them!
Nostalgia at its best.
A 5 star show.

Belfast Telegraph