Bass guitarist Terry Uttley, the man who was a founder member of the band back in the 1970's, says "It's been another fabulous year for Smokie and the future looks great".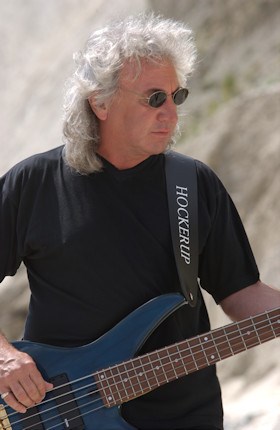 Terry was a pupil at St. Bede's School in Bradford when the group was first formed under a different name. Originally they were called The Elizabethans, and then became known as Kindness, before the name Smokie was finally adopted. The other founder members left the band in a variety of circumstances over the years but Terry remains as the 'daddy' of the band, having been a professional musician now for over 30 years. He has spent all that time with Smokie, apart from a short spell in the 1980's when the band was briefly disbanded.
Understandably he has been a major influence on Smokie's remarkable progress over the years and remains the figurehead of the group as they continue to break new ground. 'If someone had said to me when I was at St. Bede's that I'd still be playing with Smokie, touring the world and recording new albums in the new millennium, I would have said they must be mad!' he says. 'But I can honestly say that I still get that same buzz on stage from playing live in front of a huge audience that I've always had. I suppose if that ever went, it would be time to call it a day. However, I don't see that happening. We've had some real highs recently, and when we came off stage in Beijing last September, it was one of the greatest highs of the lot.' 'You can't put into words really how it feels to get a reception like that from an audience. It's a unique feeling and one that makes everything worthwhile'.
'I've had a real buzz too from the work we've done in the recording studio. Uncovered was an album I was very proud of. We took a long time selecting the tracks and I was delighted by the sound, and of course by the fantastic sales across Europe'.
'Another major plus for Smokie this year has been the opportunity to get back out on the road in the UK. We've been so busy touring the world for the last few years that we haven't had time to do anything other than the odd concert here and there back home. 'Again the audiences were tremendous and we enjoyed it so much that we're now planning to ensure we do a short UK tour each year from now on. So, all things considered it has been a hectic, but highly enjoyable time for us and I know there is more to come.
'We're about to bring out Uncovered 2 and I believe both our studio sound, and live sound is stronger than it's ever been. I'm a very lucky man. I am able to do something that I really enjoy and earn a living along the way.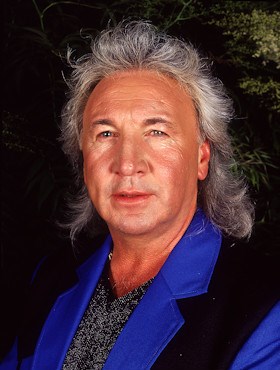 'All of us in Smokie are genuinely grateful to our thousands of fans all over the world. They are the folk we do it for. Without their brilliant support we wouldn't be here, it's as simple as that.'Smokie has been a complete way of life for me. I've had the joy of working with a great bunch of people and we still have time for a lot of fun along the way even when the workload is heavy. 'Even though the band has changed at times over the years Smokie has continually got stronger. The band as a whole is greater than any individual and that includes me, even though I've been in the band from the very start.
'I owe the fans a huge debt of gratitude - the support we've had over the years from fans old and new has been unbelievable. It hasn't all been plain sailing, we've had our difficult times and our tragic times, but Smokie's ability to bounce back never ceases to amaze me.'
Away from the spotlight Terry is equally proud of his family. He still lives near Bradford with his wife Shirley. They have two daughters, Lisa and Holly.
Keep up to date about where Smokie are playing.
You don't want to miss them!
Nostalgia at its best.
A 5 star show.

Belfast Telegraph