The Early Years
To be rock 'n' roll survivors is an achievement. To be Europe's top live band, forty three years after its inception is truly fantastic; but to still be enthusiastic, fresh, totally committed and in love with the music is a positive miracle.
In some ways miraculous is an adjective that suits 'SMOKIE' down to the ground. The original members, Terry Uttley, Alan Silson and Chris Norman shared the playground together at St. Bede's Grammar School in Bradford, West Yorkshire. Their first musical incarnation being "The Yen" followed more swiftly by "The Sphynx".
Terry remembers his contribution to both bands consisting of manual dexterity on a regular guitar minus two strings which served as his first bass, only to find that on the day he bought his first real guitar, the band fired him on a schoolboy whim. Whilst Alan and Chris furthered their musical education, Terry became an apprentice printer but was finally lured into their newly named rock 'n' roll vehicle, "The Elizabethans". This particular band's major claims to fame include being sacked from Butlin's Holiday Camp after completing just one week of a summer season and being the first band to allow Radio One the dubious opportunity of running a competition to change their name yet again - this time to "Kindness". Equipped with their newly found radio sponsors, they quickly signed a recording deal with RCA and released a single "Light of Love".
This was followed by a period of recording with Decca Records, incidentally signed up by the man who turned down the Beatles. All this activity amounted to absolutely nothing. Late in 1973, bewildered by their lack of success, they eventually successfully auditioned as the backing band for the illustrious Peter Noone whose 'Hermits' had apparently hidden themselves away.
A year's touring with Peter in the UK followed and it was then back to gigging around the North of England as they had done before.
Whilst working at a gig in Cheshire one night, they met a man called Bill Hurley, who liked what he heard and offered to work with the band with a view to securing gigs for them a little further south than the Manchester Ship Canal. The work started to flow in at this point and one day Bill heard that the hot production team, Mike Chapman and Nicky Chinn were actively looking for a new band to sign to their Production Company. Bill pestered them to the death, he also organised the best 'cheapo, cheapo' demos they could communally afford and presented them to the great men. The great men were singularly unimpressed and turned the band down flat.
In those days of supposed overnight success the young musicians were full of enthusiasm and fervour but they learnt along the way that surviving in a world of one-hit wonders and ever-changing musical fashion meant taking the knocks and battling on in pursuit of their musical goals and the only way to do that was by sheer hard work.
Mr. Hurley is not a man to take 'you must be joking' for an answer, so with an awful lot of further persuasion and several live auditions, they eventually caved in and signed the band in 1974. Once production had started, Mike and Nicky signed a deal with Mickey Most for his RAK label.
The Hit Machine
The first public offering by the newly named band 'Smokie' was promptly banned by Radio One as they felt Pass It Around  conjured up visions of extremely nasty drugs. It took quite a long period of time for the 'Smokie' hit machine to slip into gear. In fact the band were actually recording their second album for Chinn and Chapman in Paris when the news came through that their single If You Think You Know How To Love Me  had started to sell well in the UK. It eventually peaked at No. 3 and went onto sell millions around the world. 'Smokie' consisting of Chris, Terry, Alan and Pete Spencer on drums spent the next 5 years touring the globe collecting Silver, Gold and Platinum discs almost everywhere they ventured with songs such as Don't Play Your Rock 'n' Roll To Me, Living Next Door To Alice  and Oh Carol.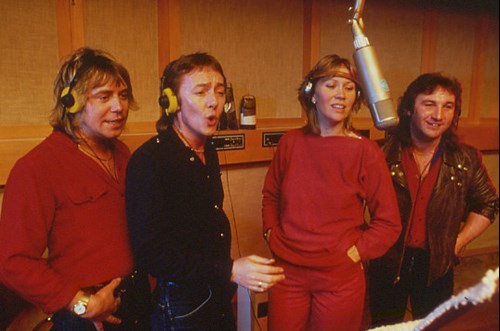 The decision to finally call it a day happened typically for Smokie at 35,000 feet on a flight to Sweden to record with one of the luscious ladies from Abba, Agnetha Faltskog. No one could really remember the real reason for the decision "It just seemed to be the right thing to do at the time".
Chris went off to pursue a solo career. Terry played with several bands including Peter Goalby (ex Trapeze), John Coughlan (ex Status Quo) and John Verity. Pete went back to song writing and Alan returned to Ilkley in West Yorkshire to await the phone call to summon him back to the band. Four years later, when the call finally came, Alan is quoted as saying "That was a nice long break". He is reputed to not have done too much in the period.
Rebirth
It was the local Yorkshire Musician John Verity who was responsible for the re-birth of 'Smokie' back in 1986. The Bradford City Football Club had just suffered one of the worst disasters in sporting history when the club's main stand caught fire during a match with considerable loss of life. A relief fund for relatives was set up in Bradford and because of their local connections, John Verity invited Smokie to reform for a one-off benefit concert. The concert was a huge success not only for the relief fund but also for Smokie personally.
Three days after the concert, Chris Norman rang his old mates to ask the inevitable question "Shall we put Smokie back together again?" An affirmative answer saw our heroes back on the road, touring Germany, Austria and Switzerland, just as successfully as they had done before. They even ventured down under to 'Hogan' country. On the way back from 'Oz', once again, at 35,000 feet, Chris Norman dropped the bombshell that his solo career was now so successful, particularly in West Germany that he could no longer sustain his commitment to the band. Terry and Alan knew the new 'Smokie' could succeed, but how could it be done without Chris?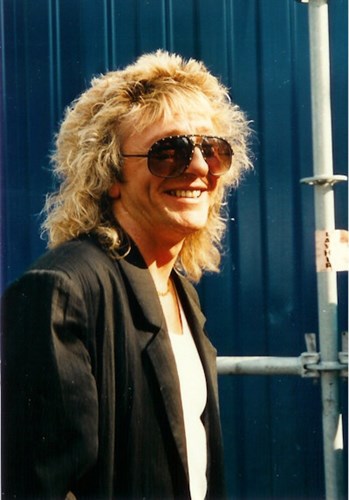 Mr. Norman offered the solution; he had a friend called Alan Barton, who he rated highly as a lead singer. Terry and Alan were not so sure - Alan Barton's musical background was very different to that of 'Smokie' and in the end they said no.
However, a few weeks later at Terry's house, Alan Barton was enjoying a small glass of Vimto when a jam session broke out and Mr Barton was called upon to duet with Chris Norman who happened also to be in attendance. What Alan and Terry saw that night instantly convinced them that Mr. Barton was precisely the man for the job and offered him the role of 'lead singer' on the spot.
The line up then became:
Alan Barton  - Lead Vocals/Guitar
Terry Uttley - Vocals/Bass Guitar
Alan Silson  - Vocals/Lead Guitar
Martin Bullard - Keyboards and
Steve Pinnell - Drums/Percussion
So the new 'Smokie' was born and after several irregular sidemen, they now have the line-up we got to know. The 1989 hit album, Boulevard of Broken Dreams  went on to firmly establish the line-up which has taken Smokie from strength to strength. In Norway alone the album spent the majority of the year in the top ten of the album charts, staying at number 1 for a record of 10 weeks.
The band toured continuously throughout the year working in Scandinavia, Germany, Austria, Eire and Australia, culminating in a sell-out tour of the UK, their first in their home territory for ten years.
1990 saw the band celebrating with a brand new album Whose Are These Boots  a reference to Alan Silson's rather colourful and eccentric choice of footwear. 'Boots' took the band through yet another musical dimension. Combining the very latest rock technology in the studio with ten highly original songs comprising the writing talents of every band member, resulting in a piece of work that sounds modern, progressive and fresh, yet retaining the musical elements that have allowed Smokie to stay at the top of the musical tree for many many years.
Since the 'Boots' album the band have since thrilled us with 18 Carat Gold, Chasing Shadows, echoing the classic Smokie style, which has kept them firmly in the forefront of Europe and Worldwide. Having successfully completed touring Europe, Scandinavia and South Africa and a brand new live video, Smokie were well and truly back. 1993 brought the release of the album Burnin' Ambition  which had huge success in Germany. 1994 brought us the ultimate album Celebration, a superb album blessed with their old and latest hits, with Can't Cry Hard Enough  their newest song, and a favourite with all of the band.
Tragedy
By 1995, Smokie were even stronger, with headlining tours booked across Europe. Tragically on their way to Dusseldorf airport the tour bus careered off the road in a freak hailstorm. There were three band members on the bus, Alan Silson, Terry Uttley and Alan Barton. Alan Silson and Terry Uttley suffered bad cuts and bruises. However, Alan Barton's injuries were so critical that after 5 days in intensive care, he lost his fight for life. The band had now to face the biggest crisis they had ever been through. Not only had they lost a great front man, but a very dear friend. They knew that if they didn't start work almost immediately, they never would and that would mean the end of Smokie. With the help and support of fans and the media it was decided that they continue.
Auditions were soon to take place. Everyone knew that it would take a very special person to follow Alan Barton. Nevertheless, there was a need to continue. Mike Craft - a friend of the band, was invited to audition and after just playing one song, the band knew that Mike was to be their new front man. It was felt that Mike had the strength and sensitivity to take the band into their next chapter.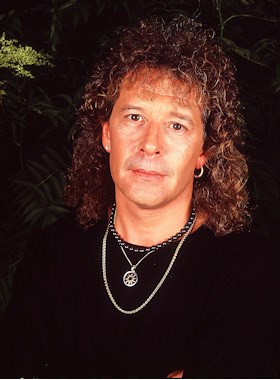 Mike had a huge pair of boots to fill at the time, and he did that job admirably.
His contribution to the legacy of Smokie will be written in history and deservedly so.
Mike is widely recognised by many as an extremely professional artist.
His dedication to the band was never in question and Mike was incredibly popular amongst Smokie fans far and wide.
Mike could also be incredibly witty and he gave us many a laugh, on so many occasions.
Mike made a name for himself on his debut album with the band, "The World And Elsewhere"
In many ways, it is recognised that Mike injected a new energy into Smokie, especially with his energetic live performance and his gift of talking to any type of audience.
Mike made an incredible contribution to a further 7 studio albums as well as various compilations and live DVD's.
Living Next Door To Alice (Who the F**K is Alice) featuring Roy Chubby Brown brought yet another new dimension into the band's history. First a hit for Smokie in 1976 and reaching number 5 in the charts it is somewhat ironic that since its re-release in 1995, it again reached the top 5 selling in excess of 200,000 copies.
During 1996, Alan Silson found it increasingly difficult to come to terms with being on the road and constantly travelling. Eventually, he made the extremely hard decision to stop touring with the band. To stand in for Alan, the band brought in Mick McConnell. Mick was quickly accepted by all the fans and has now become a firm favourite.
Now the aptly named The World and Elsewhere has reached platinum in Norway and is advertised worldwide. A full tour of Germany was planned with the name The World and Elsewhere. This was a truly successful tour and after 31 days, performing every night, a well-deserved rest was in order. However, with the release of a Christmas Album Light a Candle there were to be more and more promotional tours.
1997 saw the band travel to the USA, and the world capital of music, Nashville. They secured the services of renowned record producer, Barry Beckett to oversee the making of a new album. Barry was impressed with the musical and vocal talents of the band, and called in some favours from lots of writers, even the extremely talented and very famous Diane Warren. The selection of material for Smokie to work with was amazing, it was difficult to come up with the final selection of tracks, but what a selection they are. Wild Horses  was born, an album with a strong new country-rock flavour, but the unmistakable sounds of Smokie was to make it one of the most satisfying albums the band has ever made. Wild Horses  has proved to be a very popular and successful album throughout Europe, and the tracks from it are now all firm favourites with the fans.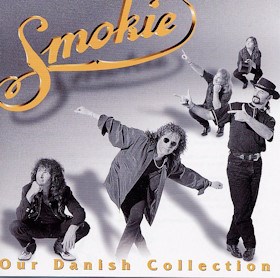 1998 and '99 saw Smokie continue with extensive European, Russian and South African tours, making lots of new fans along the way. A newly recorded "Collection" album was released in many countries, including some 'Wild Horses' tracks and also a recording of a Smokie version of Brave New World. This album has had tremendous appeal to lots of fans in Denmark, a tour of Sweden proved to be the best selling tour by any artist for Sweden in that year. This also meant that the Swedish Collection  sales exceeded 90,000 and it went platinum. 
They also visited some new areas of the world. Ulaan Bataar, in Mongolia surprised them with its fantastic welcome for the band and the high status they were held in. They played two sell-out nights in an open-air 40,000 capacity stadium, but amazingly, there were also another 25,000 people gathered outside the stadium, just listening as they couldn't all get tickets. South America also became Smokie territory, they played two shows in Montevideo, Uruguay and the response from the people there amazed them. Malta was also another new venue on the Smokie tour list, and yet again another group of new fans collected in their travels. China was the next new area. They recorded a traditional Chinese folk song Nan Li Wan but but with the unmistakable sound of Smokie added. The Beijing concerts were a huge success and the song proved a real hit.
A New Millenium
The new millennium also saw the band continuing to go from strength to strength. It started in 2000 with the recording of another bigselling album - Uncovered, which achieved double platinum status. There was a TV documentary, a first UK tour in over a decade and was followed by another album in 2001, Uncovered 2.
In 2002 a double CD album, "The Danish Collection", topped the charts with platinum success in Denmark, Sweden and Norway. The same year Smokie were invited by FIFA to become ambassadors for the World Cup that was staged in Japan and South Korea, to coincide with their tour in that territory. They were also awarded honorary citizenship of Gyeonggi Province, of South Korea.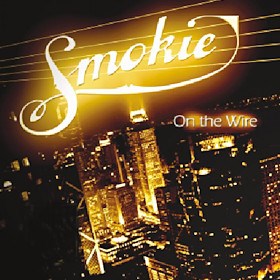 "On The Wire" was released in 2004 along with a video for the track "Over You", a song penned by Mike Craft, but the stand out track of the album was a song that the band would play in their live set many times called "Home Is Anywhere You Are" written by Michael Jay, who went on to work with Eminem. At the end of that year Smokie were invited to play for President Putin's New Year party in the Kremlin, Moscow and in the same year the band played to a staggering 500,000 people in the main square in Kiev to mark the country's 700th anniversary.
"From The Heart", a compilation of love songs was released 2006 with the added bonus of three new recorded tracks; "Back To You" becoming a favourite track in the band's live shows. 2006 also gave the band a chance to do something they had longed to do which was to make an acoustic album, something they had thought about doing probably before anyone else. The album was made mostly at Mick's house and the band employed Pete Greene to mix the album which became known as "Eclipse". Pete had been responsible for the sound of Smokie's Nashville album which had a sound the band really liked. A DVD was released of a live concert filmed at The Cirkus in Stockholm, Sweden which was followed in 2009 by another live DVD filmed in Cape Town, South Africa.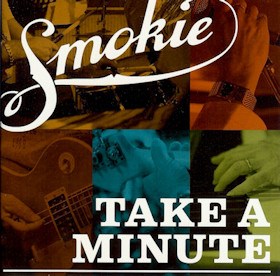 It took well over four years for the band to produce another offering of original music. The fans were keen to hear some new songs.  Smokie had severed ties with CMC by this time and Take A Minute was released in 2010 by Black Pelican in Scandinavia, Germany, Benelux and the Czech Republic and, whilst it didn't really bring chart success, something the band had previously enjoyed with CMC, it did sell well, and it introduced the sequel to "Alice", "Sally's Song".
2010 also saw the concept of touring with a full orchestra and this became a big selling tour in the Christmas periods of 2010, 2011 and 2012.
Celebrating over forty years of recording and touring, has showed once again that Smokie maintain their place among the time-honoured, rock n' roll elite - something they take in their stride, but never for granted.  Today, the band find themselves playing more territories than ever before, Malaysia and India becoming firm favourites with band members and Australia has now become a regular addition to their touring schedule
February 2013 found the band entering the studio once again to make a new album. Six tracks were recorded and four of them became available as downloads. Now three of those tracks have been re-mixed and mastered and are currently available in an EP package that is available at some of Smokie's live concerts.
Changes in 2020's
in April 2021 Mike Craft had decided to leave Smokie.
Sadly
 Terence Uttley passed away in December 2021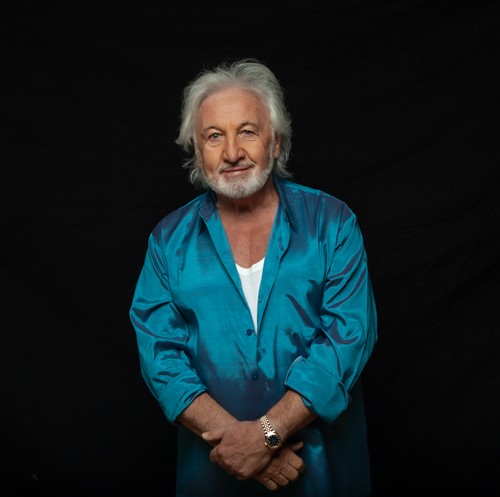 Terry was
one of the founder members of the band 
SMOKIE 
back in the 1970s
Terry was a pupil at St. Bede's School in Bradford when the group was first formed and remained as the 'daddy' of the band throughout the decades.  Having been a professional musician for over 50 years, he dedicated his whole career to Smokie, both in the studio and on the road.
'If someone had said to me when I was at St. Bede's that I'd still be playing with Smokie, touring the world and recording new albums in the new millennium, I would have said they must be mad!'. But I can honestly say that I still get that same buzz on stage from playing live in front of a huge audience that I've always had.'
'All of us in Smokie are genuinely grateful to our thousands of fans all over the world. They are the folk we do it for. Without their brilliant support we wouldn't be here, it's as simple as that. Smokie has been a complete way of life for me. I've had the joy of working with a great bunch of people as well as having a lot of fun along the way.' Terry Uttley
Away from the spotlight Terry was a very proud family man.  He was a loving husband to his wife Shirley, who also recently passed away, and devoted father to his two daughters Lisa and Holly.   He was lucky enough to have grandchildren and great-grandchildren and simply adored his role as "Pops"- nothing gave him more pleasure than spending precious time with his family.
We all feel extremely lucky to have shared such a long lifetime and the stage with Terry. Peace and love to all who knew Terry, and those he touched. We will miss him dearly."Smokie band members"
The Band Today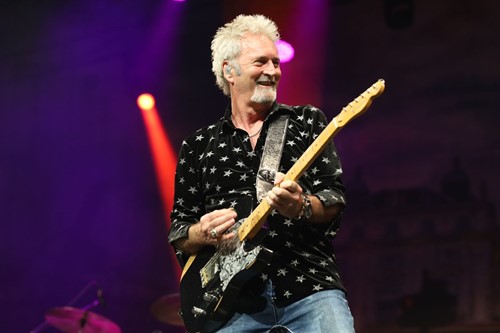 Lead singer and guitarist Pete Lincoln is the newest member of the band, joining in April 2021.
Pete was born on 15 March 1956 and grew up in his native Geordieland, Newcastle upon Tyne in the north east of England.
He picked up the guitar early in life and pretty much hasn't put it down since.
Earning his 'stripes' through hard work and dedication, Pete's early career was spent working both onstage and in the studio with artists including Sir Cliff Richard, Tina Turner, Shakin' Stevens, and many more.
Before taking up the role as lead singer and bassist for glam rock legends The Sweet in 2006, Pete enjoyed 10 years as frontman for Sailor, who had worldwide success with hits like Girls, Girls, Girls and A Glass of Champagne. The last four decades have seen him touring all corners of the globe, from New Zealand to Greenland.
Luke Bullard on Bass and backing vocals.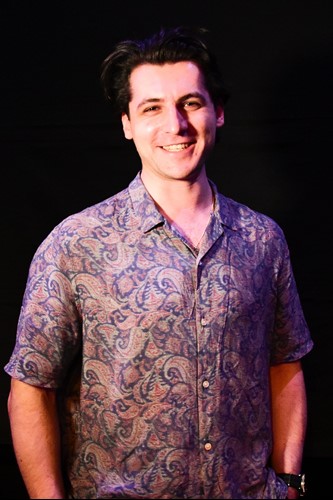 Luke was born on 5th April 1993 in West Yorkshire. Born in to the band, with his Dad, Martin, being Smokie's keyboard player, he travelled around Europe with his Mum seeing them play from a young age.
Having grown up surrounded by music it was no surprise showed an interest in playing himself. At the age of 7 he was at a Smokie gig and the sound engineer let him listen to an isolated mix of band of his choosing. Luke choose to listen to the guitar as it was the instrument that fascinated him the most. Martin was quickly told "I think your son wants to play guitar". He started having lessons and was immediately hooked. His fondest memories of these  informative years were jamming with his Dad at home in the Highlands of Scotland and getting to play in Smokie sound checks.
Luke also curently tours with James Bay and has previously toured as a session player with The Shires, Amber Run, and Airways, to name but a few. He finds himself working as a multi-instrumentalist and a backing vocalist across a wide range of genres.
Having previously stepped in on bass for Smokie before in 2019, he is delighted to join the band and play the music he grew up with. The band have always been his extended family and it's a joy for him to get to travel the world and bring the music to the fans.
Smokies line-up are:-
Steve Pinnell on Drums
Mick McConnell on lead guitar and Backing vocal
Pete Lincoln Lead vocals and rhythm guitar
Martin Bullard Keyboards
Luke Bullard on Bass guitar and backing vocals
Keep up to date about where Smokie are playing.
You don't want to miss them!
Nostalgia at its best.
A 5 star show.

Belfast Telegraph