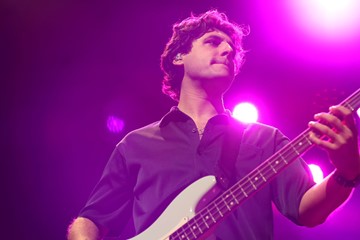 Luke was born on 5th April 1993 in West Yorkshire. Born in to the band, with his Dad, Martin, being Smokie's keyboard player, he travelled around Europe with his Mum seeing them play from a young age.
Having grown up surrounded by music it was no surprise showed an interest in playing himself. At the age of 7 he was at a Smokie gig and the sound engineer let him listen to an isolated mix of band of his choosing. Luke choose to listen to the guitar as it was the instrument that fascinated him the most. Martin was quickly told "I think your son wants to play guitar". He started having lessons and was immediately hooked. His fondest memories of these  informative years were jamming with his Dad at home in the Highlands of Scotland and getting to play in Smokie sound checks.
Luke also curently tours with James Bay and has previously toured as a session player with The Shires, Amber Run, and Airways, to name but a few. He finds himself working as a multi-instrumentalist and a backing vocalist across a wide range of genres.
Having previously stepped in on bass for Smokie before in 2019, he is delighted to join the band and play the music he grew up with. The band have always been his extended family and it's a joy for him to get to travel the world and bring the music to the fans.
Keep up to date about where Smokie are playing.
You don't want to miss them!
Nostalgia at its best.
A 5 star show.

Belfast Telegraph