Drummer Steve Pinnell is not like drummers in a lot of bands who sit quietly at the back of the stage. Well not exactly quietly - lets face it they are paid to make noise. You know what I mean though. The guy sitting behind the drum kit is heard but rarely seen. Well Steve is no ordinary drummer. In contrast to the quieter members of the drumming fraternity, Steve is someone who is at the very heart of the performance on stage.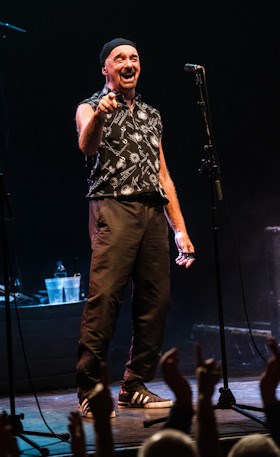 At one some point during the concert you'll see Steve at the very front of the stage. He certainly knows how to work an audience into a frenzy of excitement. His trade mark bandanas and wide-brimmed hats are a familiar feature of Smokie and have been since he joined the band in the mid-eighties.
He has been in the band now for over 30 years and says he's loved every minute of it. "Joining Smokie was the best thing I ever did. It's taken me all around the world many times playing some of the biggest venues. The only thing that constantly surprises me is how things keep on getting better and better. When you think you have achieved more than you ever dreamt you could, something else comes along and takes your breath away. Yes, we've had a few low points along the way, but it's remarkable how the band has always bounced back to do even bigger and better things. You only have to look at our schedule for this coming year; it's as busy as it has ever been and the tour in November and December with a big orchestra will be the icing on the cake. 
"Starting the year with a tour of Ireland and a tour of the UK is a great way to kick the year off as Ireland has always been fantastic for Smokie and we also have had a great following in the UK over the years so really looking forward to those gigs. Also playing the open air gigs in the summer is always a buzz because there are so many people there and in a wide variety of countries where you always bump into old friends from other bands and from fans alike". 
One of the things that most impressed Steve when he was invited to join the band was the ambition the guys had to go on breaking new ground. He soon realised that the band members weren't just colleagues and team members, they were also really good friends. "That's even more the case today I think than at any time in the past. We're really together as a unit and ultimately I think that, and the fact that we have had a great crew supporting us over the years, has to be the key to whatever success we've had".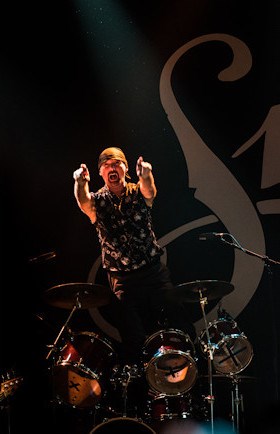 Steve lives in the north-east, near Middlesbrough, with his wife Val. They have three children - two sons and a daughter and five grandchildren. When he has some time off work Steve has two sporting passions. He loves football and closely follows the fortunes of his club Middlesbrough. They are in the Championship now but battling to get back into the Premiership. 
Steve also loves golf and tries to play as often as he can. His current handicap is 8 although at one time it was down to 5. He twice won the Norman Wisdom Pro-Celebrity Classic, held annually on the Isle of Man. He has also played with the legendary South African Gary Player and the great Ian Woosnam and Ernie Els. "I love my golf. It's a great relaxation for me and I find it really helps me re-charge my batteries for the next tour. 
"As far as Smokie is concerned I'm just as excited about the future as I've always been. I think the band sounds tremendous at the moment and it's a real team as we all pull for each other. 
"Finally a huge thank you to the fans. They are truly brilliant and never fail to amaze me. It makes it all worthwhile. As long as you want us - we'll be there for YOU!"
Keep up to date about where Smokie are playing.
You don't want to miss them!
Nostalgia at its best.
A 5 star show.

Belfast Telegraph