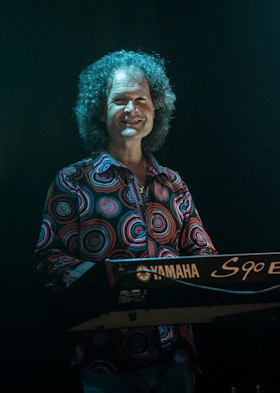 Keyboard player Martin Bullard is a classically trained musician and Unisong award winner. His work may be heard in the Yorkshire TV series "An Innocent Abroad", which charts the travels of Hannah Hauxwell, as well as at Scotland's top tourist attraction The Loch Ness Exhibition Centre in Drumnadrochit in The Highlands.
These two projects led to the creation of two albums, "Senses and Impressions" and "Loch Ness Enigmas". Every Smokie performance begins with a musical introduction composed by Martin. It's all about creating the atmosphere and generating excitement as the audience anticipate the band's arrival onstage.
Born in the south of England, he came to live in West Yorkshire and it was during his time there that he met up with and joined Smokie on 7th March 1988. He met his wife, Roz, on tour in Australia and the couple now live in a quiet corner of rural Scotland where the beauty of the surrounding countryside reminds Roz of home.
Martin tells his story:
"It is now 57 years since I gave my first musical performance. As a five-year old choirboy I embarked on a lifetime of music of various types. I was keen but a little shy. Because I had already started singing I used to pick out tunes on the piano, playing everything from memory rather than from music. My parents decided I should take piano lessons. As I progressed rapidly through the grades I was always urged to play the fastest and most complicated works, which I happily did to entertain others. In my first school band I was so much younger and smaller than the others with whom I played that I was difficult to detect, except that some very busy keyboard parts were emerging from somewhere in the room. Such was the music of the 70s, which formed part of my inspiration for making music in the first place. I also had the works of Bach, Beethoven, Vivaldi, Schumann, Mozart and Grieg, amongst others, to play and perform in regular recitals. It was all good experience when it came to performing live, but what could I do with all that classical training and practice which kept me occupied throughout my youth? The answer was easy - just adapt the classical styles into rock music for there is a fusion which provides a great balance, a big sound and an identifiable element of Smokie's music since the 1980s.
"My musical training has been a great asset to me and has provided me with the knowledge to create a wide variety of very different styles for different purposes. Music is mostly about sharing and creating moods for others to enjoy. The mood of Smokie is so simple and such fun that it is impossible not to be drawn into the happy atmosphere the band creates. Band music is about creating space for each other so we may all express ourselves and be heard yet still blend with each other.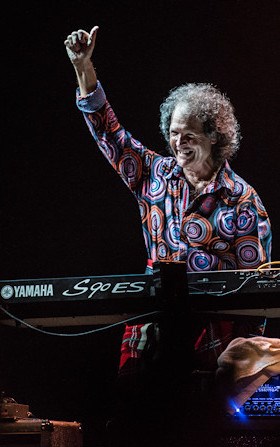 "While off the road I sometimes indulge in creating some of the other music to which I refer. With so many great sounds at my fingertips, thanks to today's technology, I can construct stirring soundtracks from my modestly proportioned studio in the heart of The Highlands. With no musical constraints and no need to work to somebody else's brief it is exhilarating being able to let the creative inspiration take me to wherever it leads at the time, whether it be inspired by Aboriginal, Latin, Eastern European or any other of the world's territories. I have created two further works during my time in Scotland, namely "World of Music" and "The Code Within", and I am currently working on a piano EP titled "Reflections" that I hope to complete this year.
"But I mostly make music for pleasure. That's how I started and that's how I view the making of music even now. It is very gratifying to occasionally receive an accolade for my works, such as the awards with which I have been presented by Unisong, and yet music is still its own reward and the making of music is an enduring pleasure.
"I often hear fans say that they couldn't imagine a life without Smokie. Well, I couldn't imagine a life without music and I plan to carry on making music as long as I am physically and mentally able to do so".
Keep up to date about where Smokie are playing.
You don't want to miss them!
Nostalgia at its best.
A 5 star show.

Belfast Telegraph