2018 marks 22 years since a fateful phone call that would change the course of Mick McConnell's career and send him on an unforgettable journey as a member of one of the UK's leading rock bands.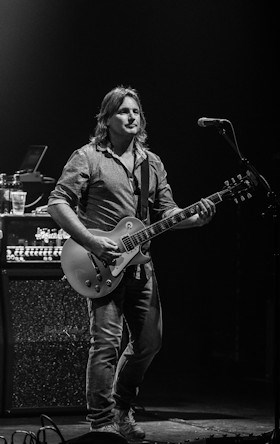 "Am I surprised that we are still going? Not really, I think as long as the fans continue to want to hear those songs then why not, but twenty two years in the same band is the real surprise".
After the rather quick departure of Alan Silson in 1996, Mick was asked to help the band out on a few live shows and also record the Christmas album, "Light A Candle" which he duly did, and before he could catch his breath he was introduced as the band's New Lead Guitarist.
"I felt a little strange and uncertain but I never felt awkward because the fans accepted me".
Mick clearly brought a new dimension to the band, skillfully marrying his customary American style guitar playing with the established Smokie sound. He also stayed true to the legacy left behind by Alan Silson, where it was needed.
Self-taught on a cheap Woolworths guitar, by the age of 15 Mick was already establishing a reputation for himself on the local Leeds Blues Circuit.
Mick left for his first European tour at the age of 19. It was here that he truly earned his stripes as a professional musician, gigging 28 nights a month on US Army Bases, playing several sets into the early hours.
The upward trajectory of Mick's career hit came to a shuddering halt during a brief, ill-fated stint in the US, after which Mick formed a new band and returned to the familiar US Army Bases once more. However, fate took another turn for the worse and a traffic accident in Sicily left Mick with a broken shoulder and a broken left hand.
"I genuinely felt that my guitar playing days were over. I was seriously scared".
Still sporting a heavy cast, Mick was presented with the opportunity to join German rockers, The Richard Head Band. Now living in Germany, Mick was truly living the dream, at one point supporting the all-conquering Bon Jovi. Mick was getting a taste for the big stage!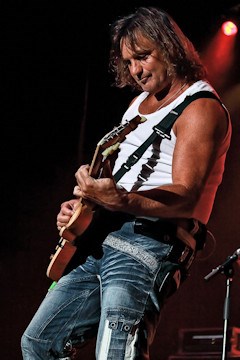 "I have fond memories of the Richard Head band, but I was burning the candle at both ends and needed out". It was that realisation that would force Mick back to the UK once again.
The story of Mick's time as guitar tech for Smokie is well documented, but even stability and a steady wage couldn't keep Mick from moving on yet again. He passed the entrance exam to study music in California but a lack of funds scuppered this endeavour and before long, Mick was back where he started, playing covers again.
Finally, in 1996, the call came from Smokie's manager.
It would be the Nashville album that in many ways allowed Mick the opportunity to show Smokie fans what he could offer in the future. Working with Producer Barry Beckett and hearing Barry's Muscle Shoals stories would also re-ignite Mick's love affair with America.
Having gained the experience of recording several Smokie albums, Mick had begun to hone his skills as a songwriter, penning several tracks for the Take A Minute album. This led to Mick securing a publishing deal with music giant Warner Chappell.
Having got the songwriting bit between his teeth, Mick teamed up with John Parr of St. Elmo's Fire fame on John's comeback album, Letter To America released in July 2011. The first song they wrote together would feature.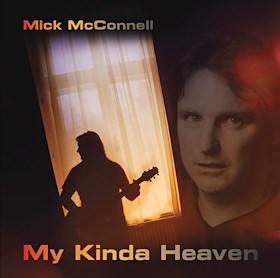 Warner Chappell had convinced Mick to release a solo album and in 2012 Mick's first solo album, My Kinda Heaven (a collection of songs written over many years), was finally released. It featured musicians from bands such as Uriah Heep and Wishbone Ash and was mixed by Pete Greene who also mixed Smokie's, Nashville album. There was also another co-write with John Parr; and once again Mick was back in the Good O'le US of A.
In 2015 Mick started to write material for his second solo offering in the form of a Blues/Rock album. Once again Mick headed to Nashville where he teamed up with Grammy winning producer and old friend, Blue Miller. This new album, Under My Skin, was released in March 2017 to much critical acclaim. Recorded in Nashville with some of the finest musicians in the business, Under My Skin was a punchy, and powerful Blues record, which allowed Mick to spread his musical wings and showcase his range of skills as both a writer and performer.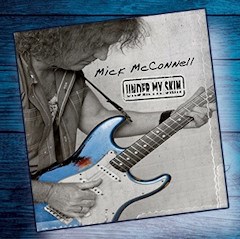 The album was played on heavy rotation on Blues radio stations around the UK and Europe and it also gained excellent airplay in the USA. It peaked at number 13 in the European Blues chart and Mick was featured in the centre pages of Blues Matters, the go to Blues magazine, as well as being a main feature in the Blues in Britain magazine.
Mick's gravely vocals and his trademark Gibson Les Paul have now become etched in Smokie's long history. The affirmation he has received from the likes of Gibson Guitars and Hughes and Kettner Amplifiers in the form of endorsements, clearly show how far a young lad from Yorkshire has come.
"Having had a chance to listen to the remixes of the newer songs that have just been released on a limited run EP, I know that Smokie have that little bit of magic in the studio, so I can't wait to get back in there in the future".
Mick now spends most of his time living in Spain. He is a keen skier, he also enjoys scuba diving and in recent times has become a keen cyclist. If you can't find him - he's probably at the beach!
See www.mickmcconnell.com for more about Mick.
Keep up to date about where Smokie are playing.
You don't want to miss them!
The riffs are all his own, he's not a borrower.

Music Republic Magazine ****
Under My Skin highlights McConnell's cleverly crafted lyrics and delightful, soulful musicianship.

Elmore Magazine